Finding unique dog gifts can be difficult, especially when a lot of products seem pretty similar these days. You see the same old Kong toys and dog beds that have been around for decades, and nothing seems to inspire. There just aren't any unique dog gifts to give any more!
Well, if you've been struggling to find awesome dog gifts in your life, fret no more. We're proud to introduce a huge list of 72 Unique Dog Gifts for Any Occasion. Any of these products would be great gifts for dog owners for the holidays, birthdays, or any occasion. And now that Christmas season is fast approaching, it's the perfect time to start thinking about, and shopping for, your furry loved ones.
If you want to skip to any of the unique dog gifts on this list, just click the link in the table of contents below!
Stocking Stuffers
While people tend to dole out chocolates and small trinkets for stocking stuffers during Christmas, your dog could use some love too! The below products are great, low-priced unique dog gifts that would make any pooch feel special for the holidays—as long as you aren't giving your dog a lump of coal this year.
Personalized Dog Christmas Stocking
It wouldn't be Christmas without a stocking, and why should you deprive your dog of one?  A stocking is a perfect way to load up on unique dog gifts on the cheap.  When you have the stockings lined up above the fireplace, you need to know which belongs to your dog, so get one personalized with Fido's name.  Buy yours here.

Personalized Dog Paw Christmas Stocking
Dogs don't really wear stockings, so if you are in the market for something more canine-appropriate, you might want to get a paw stocking. Your dog can't read, so this will help her know which one belongs to her (that and the treats you've hidden inside).  Buy yours here.
Nozzle Nectar Dog Nose Butter
One of the most asked questions on Google about dogs is "Why are dogs' noses wet?" But for a lot of dogs, dry noses can become a problem.  This is especially true for "flat faced" dogs such as boxers, pugs, bulldogs, and similar breeds.  If your dog's nose is perpetually dry, chapped, cracked, or crusty, there may be a problem.  A great unique gift for a dog with dry nose issues is Nozzle Nectar, an all natural, organic balm that quickly and painlessly resolves issues with dry dog noses.  Buy yours here.

Chuckit! Ultra Ball
Is your dog tired of playing with the same old soggy tennis balls?  Are you fed up buying new ones every other week because they constantly fall apart at the whims of your dog's rabid tennis-ball fascination?  Well, these unique rubber fetching balls made by ChuckIt are the perfect solution. They last a long time, are highly rated, and their orange and blue color make them impossible to lose.  Buy yours here.

Benebone Bacon Flavored Wishbone Chew Toy
Almost everybody loves bacon, and dogs are certainly no exception to that rule.  While cooking up a bunch of bacon for your dog probably isn't the healthiest choice, the next best thing might be the Benebone Bacon Flavored Wishbone Dog Chew.  
Even though it's a chew toy made of mostly nylon, it's actually made with real bacon so that your dog won't be able to resist the urge to chew on it for hours on end.  Buy one here.

Chomp Yip Yap Breath Fresheners for Dogs
Isn't dog breath the worst?  Well, if you aren't afraid to tell your dog that its breath stinks and want a really unique dog gift, you might want to put some Chomp Yip Yap Breath Fresheners in 
its stocking this year.  These breath fresheners will help ease the nasty smell emanating from your dog's mouth and make you and your pup closer than ever.  You can mix the mints into your dog's food or into a treat – they're completely natural and safe, so no need to worry about the ingredients.  Buy yours here.

The Odin Dog Treat Puzzle Toy
If you have a lazy dog that likes to be given its food on his command, you might want to start making it a little harder and more fun for him.  The Odin Dog Treat Puzzle is an award-winning puzzle toy that provides mental and physical stimulation for dogs with a reward for their hard work.  Your dog will have to kick, chase, and flip the toy around until small morsels of treats come out, providing tons of hands-free entertainment.  It's the perfect functional and one of the most well-designed unique dog gifts for your dog's stocking. Buy yours here.

Elk Antlers for Dogs
If you really want to spoil your dog with an amazing stocking gift, get him the chew toy that 
he won't forget.  Dog's love elk antlers – they are nature's chew toys and dog's can't get enough of them.  Elk antlers are softer than deer antlers, making elk antlers safe for your dog's teeth, but still durable.  The elk antlers from Heartland Antlers are some of the best.  Buy yours here.
Outward Hound Santa Dog Bandana
If your dog is a huge Christmas fan and wants to play the part, include some Santa gear in her stocking.  This Santa "hat" bandana is a great way to dress your dog festively for the holiday in a form factor that is more likely to stay on her body than a hat.  Buy yours here.

8-Piece Dog Stocking Bundle
Finally, if you want to have the job done for you, why not buy a package of stocking and stocking stuffers that someone has already put together for you?  The below package from Amazon comes with a stocking, a treat storage box, a dog Santa hat, and dog toys.  Your certainly won't disappoint your dog when she opens this huge package.  Buy yours here.
Toys
Dogs are like kids: if you don't get them toys for Christmas they're going to throw a fit.  Thankfully there's no shortage of unique dog gifts available in the toy department.  Some of our picks below will be certain to make your pooch happy as can be.
We wrote about the man who dressed as his dog's favorite toy Gumby for Halloween.  His dog's reaction will go down as one of the best dog emotions ever captured on film.  Well, since we know dogs love Gumby so much, why not get one for your own pup?  Buy one here.

OxGord BazooK-9 Tennis Ball Launcher Gun
While this article is a gift guide for dogs, some gifts for your dog are really just going to be for your own convenience, and there are two great gifts that will help you play fetch with your dog while using less effort.  The first is the OxGord BazooK-9 Tennis Ball Launcher Gun, a long range projectile tennis ball shooter.  If you have a huge outdoor area or like to take your dog to the park to play fetch, the launcher will definitely give your dog a workout running near and far while you sit back and relax.  Buy yours here.

Chuckit! Classic Launchers
If you want something a little bit simpler and less militaristic-looking, the Chuckit! Classic Launcher is the way to go.  You'll have to use a little bit more arm strength, but you can toss balls even farther with a little bit of practice. Buy yours here.

ZiggyPaws Burrow Log
If your dog is tired of the same old single piece toys, a great option is to get him or her a game-like toy.  The ZiggyPaws Burrow Log is a unique dog toy to give your dog if you want to watch him or her scramble around trying to figure out where all the squeaking is coming from.  If your dog isn't into squirrels, it also comes in bird and bee versions.  All are great if you're looking for unique dog gifts. Buy yours here.

ZippyPaws Holiday Reindeer Pen Burrow Squeaky Toy
And if you really want to get in the Christmas mood, then the reindeer version of ZiggyPaw's toys are pretty fun too!  Buy yours here.
Squishy Face Studio Super Tug Rope Dog Toy
If you've got a dog that tires you out and is an endless fountain of energy, why not pair him up with an opponent that he'd be hard pressed to defeat: a tree!  The Squishy Face Studio Super Tug Rope attaches firmly to large trees and allows your dog to play tug-of-war with a tree and tire himself out as long as his heart desires.  Just lay back drinking a stiff drink and watch the magic happen.  Get yours here.

PUPTEK 
Tough Dog Puppy Rope Giraffe Toy
If your dog needs oral hygiene beyond the breath fresheners we mentioned earlier in this article, then you might want to get a solid dental chew for your dog.  The PUPTEK rope giraffe works great as a dental chew while keeping your pup from tearing up other objects in your house.  Plus, it's made from cotton, so it's totally safe for little Fido.  Buy yours here.
Silly Bums Baboon Bum Plush Dog Toy
Your dog probably won't know the difference between this product and a donormal squeak toy, but the Silly Bums Baboon Bum Plush Dog Toy will make you crack up every time your dog fetches it for you and brings it back with an exposed baboon butt in its mouth.  It's one of the more unique dog gifts sure to entertain guests as well.  Get yours here.

Starbarks Coffee Dog Squeaker Toy
Maybe you want your dog to be just like you and take him to Starbucks to get skinny soy lattes everyday.  It would probably end up being an expensive habit, so why not just get him the next best thing.  Your dog will love riding around town with you while he sips on his own squeaky latte made from organic materials (the next best thing to soy).  Get yours here.
Squeaky Cannoli Dog Toy for Larger Dogs
Or let your dog join you in your sweet tooth by getting him a squeaky cannoli toy, complete with a cute little doily.  He's sure to love it just as much as you like the real thing.  Get yours here.
Apparel
The dog apparel category has exploded over the past few years as people will now go to all ends anthropomorphizing their pets.  That means that when it comes to unique dog gifts, the apparel category is loaded with options.  There's so much selection these days that sometimes it seems like dogs are getting more design attention than humans.  Well, if you're looking for the best unique dog gifts for your little guy, then we've separated the wheat from the chaff on your behalf.
Stinky G Green Festive Reindeer Dog Sweater
Get your dog in gear for the holiday season by having him or her dress like a proper person…we mean dog.  Give him a classy holiday sweater that tells the world he's ready for eggnog, caroling, and awkward encounters with long lost relatives.  This sweater will also help keep your doggy warm in case there's a white Christmas.  Buy yours here.

Bluecookies Christmas Dog Sweater
If you're into the ugly sweater phenomenon that has taken the US by storm in the past few years, get one for your dog so you can both proudly parade down the street during walks declaring that neither of you have a fashion sense.  Buy yours here.

Dog Clothes Dog Shirt "Tree" Hand Painted Mustard
If you want something a little more restrained that is a unique dog gift nonetheless, then you should go with something like this cute collared shirt and sweater combo made by hand from a seller on Etsy.  It'll give your dog the college / young professional look that would make any dog owner proud.  Get yours here.
Crew LaLa Doggy Bow Tie
If you want to get even fancier and have your dog impress the entire family, go with the bow tie.  Crew LaLa makes some really elegant southern-style doggy bowtie / collar combos
 that will turn your entire home into a more upscale place.  Don't be surprised if he starts turning heads from all of the female dogs when you take him for a walk.  Buy yours here.
ZGY Foldable Sunglasses
We wrote about Doggles in a previous article and how cool they make dogs look, but you don't need a prescription from your vet to get your dog these dog sunglasses.  Whether you're riding on your Harley or just hangin' at the park, your dog will be the coolest cat in town.  Get yours here.

WHIPPET Winter Dog Coat
Some dog clothing works for lots of breeds, but whippets are special dogs.  Their long, sleek frame makes it hard for them to fit in most dog clothing.  If you're lucky enough to have one of these beautiful dogs, this Winter coat is a great gift that would make some Parisians feel unstylish.  Get yours here.
Pikachu Dog Costume
While some costumes are only good for Halloween, the recent explosion of Pokemon GO has helped critters like Pikachu come back in style.  We have no issues, because this costume could make any dog look cute as heck.  If you're a Pokemon or Pokemon GO fan, this is the outfit to buy.  Get yours here.
ZippyPaws Holiday Red-White-Green Scarf – Dog Accessory
Some dogs don't take to wearing full outfits like others.  Even so, you can adorn your dog with awesome accessories that give a splash of holiday spirit.  The Christmas-y Winter scarf from ZippyPaws is a great choice for the dog that doesn't want to wear a lot, but is willing to get into the Christmas spirit with the rest of the family.  Get yours here.

Outward Hound Holiday Christmas Antlers
If you want to get a little more out there and satisfy your childhood dreams of having your own Christmas reindeer, then you might want to grab a pair of these Outward Hound antlers that you can put on your dog's head.  As far as unique dog gifts go, this is one of the best in the apparel category. Just don't expect your dog to be able to make your sled fly away with you.  Get yours here.
NACOCO Pet Christmas Costumes Dog Suit with Cap
And of course, if you really want to go overboard (you know who you are!), then you might as well just dress your dog up as Santa himself.  The insanely detailed NACOCO Santa suit will make all of your childhood dreams come true.  If you have multiple dogs, maybe you can even have a Santa and a few reindeer (if you're planning on doing this, please send pics to us so we can feature you on our Instagram).  Buy yours here.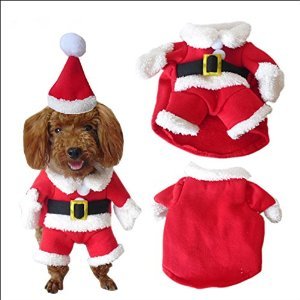 Technology
Every day, technology reaches deeper and deeper into our lives.  Pet technology is just in its infancy, but we are already starting to see some really cool innovations in the pet space for health, convenience, and entertainment.  If you are looking for really unique dog gifts, the technology space is a great place to look.  A lot of the newest gadgets and devices are duds, but we've handpicked some of the best so that you don't have to do the work.  Check out our favorites below.
Furbo Dog Camera
Imagine that you're sitting on a beach in the Caribbean this Winter on vacation.  All of your wants and needs are taken care of.  Except that you miss your dog like nobody's business!  The best solution?  The Furbo Dog Camera.  This dog camera isn't just a one way mirror that allows you to watch your dog while you're away.  It does so much more!  You can talk to your dog with its two way chat ability so that your dog feels the comfort of you being home.  You can even reward your dog with treats – the Furbo Dog Camera allows you to store up to 30 pieces of your dog's favorite treats and pop them out from the console as needed.  How cool is that?  Get yours here.

Pooch Selfie: The Original Dog Selfie Stick
Maybe instead of leaving your dog at home when you go away, you plan on taking your dog on the trip with you. You'll obviously have to take a bunch of selfies to capture all of the amazing moments with your dog.  The only problem is that they never sit still and look at the camera, making you look like you're with a completely uninterested companion.  Well, the Pooch Selfie has got you covered.  This ingenious solution simply allows you to put a tennis ball at the top of your camera so that your dog faces the lens.  Get yours here.
LED Dog Collar
If you have a dog that likes to run away from you, this next product might be just for you.  The Illumiseen LED Dog Collar has the potential to save your dog's life.  The illuminated rechargeable dog collar acts as a warning sign to nearby drivers who might not see your dog run out into the street at night.  It could also help you find your dog in the woods if he or she runs away from you.  It even has a matching LED leash available.  These could also be a great way to get unique dog gifts for electronic dance music fans out there that want to take their dogs to concerts. Buy yours here.

SportDOG Brand In-Ground Fence System
If you live on a large plot of land and want to let your dog roam free, wireless fences are a great idea.  Many people complain about a lot of the models out there, but one
that gets consistently good reviews is the SportDOG Brand In-Ground Fence system.  It comes equipped with a 1,000 foot boundary and can expand up to 100 acres.  Get yours here.

Bissell Pet Hair Eraser Handheld Vacuum
When it comes to unique dog gifts, you might not be thinking vaccuum cleaners.  These are geared more towards pet owners, but the technology has come a long way.  We all know what it's like to see your couch covered in pet hair and spend hours without much success.  The highly rated Bissell Pet Hair Eraser can definitely help you control the problem.  It works on everything from upholstery to cars and has two special nozzles depending on the type of job you have to do.  Buy yours here.

Bissell 1650A Pet Hair Eraser Vacuum
If you've got an even bigger job to get done and need something more heavy duty for the floors and carpets, go with the standing Bissell 1650A Pet Hair Eraser Vaccuum.  Its rolling brush and detachable quick release wand make it perfect for large houses with all kinds of surfaces. Buy yours here.
The Dyson Groom
If you want to attack the problem from the source, you might want to get the Dyson Groom.  It's an attachment for various Dyson vaccuums that removes loose hair during grooming without making a mess around you.  It could be the piece of technology that prevents you from getting a special pet hair vaccuum in the first place. Buy yours here.

Felcana
Tech companies have been working hard to create the perfect activity tracker for humans.  Recently, a host of pet-related health trackers have hit the market as well.  None have blown us away yet, but as far as unique dog gifts go, the Felcana has created an integrated system that looks like it holds a lot of promise for knowing more about your dog and making them healthier.  You can help fund their Kickstarter campaign here.  Watch their video below:
Heyrex Torus Ultimate Pet Water Bowl
Just when you thought certain items in your home were immune from innovation, the Heyrex Torus Ultimate Pet Water Bowl comes along and makes you wonder why they hadn't already thought of that.  The Torus allows you to keep a half a gallon of water in your dog's bowl without it getting gross from leaving it out for days.  As your dog drinks for the water in the bowl, water stored in the sides of the bowl releases through a filter, allowing you to constantly maintain a clean water supply for Fido with minimal effort.  Get yours here.
BABADIO Advanced Pet Feeder
To minimize your feeding work even further, consider getting an automatic feeder.  The BABADIO Advanced Pet Feeder is an automatic feeder with some innovative twists.  You can set up automatic or manual feeding times (in case your dog needs a little snack).  The cool thing is that you can also have it record your voice to call your dog when it's time to feed.  This would make any dog owner's life that much easier. Buy yours here.

CleverPet Feeding Puzzle
Research shows that dogs who earn food through mental challenge are more fulfilled and maintain cognitive fitness later in life.  That's why food puzzles have suddenly become such a craze in the world of pet products.  One of our favorite food puzzles, both for its aesthetic and clever construction, is the CleverPet.  This Simon Says of dog puzzles is great for excercising your dog's cognitive functions and also fun to watch!  Get yours here and watch this awesome video of the CleverPet in action.

Travel
If you've ever traveled with a dog, you know that you can't just simply hop on a plane or jump in car with your dog 
without tons of preparation.  These days, dogs need as much travel gear as a small child. That's why there are tons of unique dog products addressing the travel market.  If you are an avid traveler and can't stand the idea of leaving your dog at home or if you know someone that feels that way, we've got all of the unique dog gifts you'll need to make sure everyone has the best vacation ever!
Texsens Innovative Traveler Bubble Backpack
Every small dog owner needs a carrier, but most don't know how to do it in style. If you're looking to ditch the run-of-the-mill boxy black dog carrier that everyone seems to have, then the Texsens Innovative Traveler Bubble Backpack is definitely for you.  Not only will this space-age backpack turn heads in the airport, dogs will love the viewing window perched atop your back.  Get yours here.
U-pet Innovative Patent Bubble Pet Carrier
If you like traveling in style but don't want to look like a Jetsons family member, then you might want to go a bit more discreet with your doggy luggage.  The U-Pet Innovative Bubble Pet Carrier fits the bill.  Not only do you get a cool viewing bubble for your dog, but people might not even notice that you are carrying a dog.  The stylish design and American flag make this carrier look like a regular messenger bag.  Get yours here.

Snoozer Wheel Around Travel Pet Carrier
Finally, if you really don't enjoy the backbreaking work of carrying your dog around on your shoulder or back, you'd better get a rolling carrier.  The Wheel Around Pet Carrier by Snoozer is the perfect way to casually roll your dog around the airport without taxing your muscles.  Get yours here.

3-in-1 Retractable Dog Leash
When you're touring all day, your dog is going to want to take walks at night. That's why you should get a leash that prepares you for walking your dog in an unfamiliar area.  The 3-in-1 Retractable Dog Leash by BC Retail is the perfect way to combine a single item into one useful tool.  The dog leash has a flashlight and doggy bag dispenser attached, so you won't be fumbling around your bag looking for three different things.  Buy yours here.

OneTigris Cotton Canvas Dog Pack
If you're making the trek to the Great Outdoors, then you'll need to bring lots of extra gear for your dog.  If you have a larger dog like a golden retriever or black lab, you can have them carry their own gear (and maybe some of yours too).  One of our favorite unique dog gifts is the OneTigris Cotton Canvas Dog Pack, a stylish and versatile dog pack that you'll wish you always had. Get yours here.
Jardin Collapsible Fabric Travel Dog Bowl
If your taking your dog camping you'll also need to bring something for him or her to eat out of.  The Jardin Collapsible Fabric Travel Food Bowl is the perfect bowl for any serious hiker.  This bowl weighs only 2.9 ounces and can easily attach to your backpack or any carabiner.  Get yours here.
You'll also need a good way to store and dish out water to your pup if you plan on doing a longer outing.  The Highwave AutoDogMug is an ingenious way to travel with water and a bowl, all in one container!  Just squeeze the water out into the bowl and your dog will be able to drink to her heart's content.  Get yours here.

Waterproof Dog Shoes with Reflective Velcro
Taking long hikes through beat up trails is going to take a toll on your dog's feet, especially if he's carrying weight.  Consider getting a pair of Waterproof Dog Shoes by My Busy Dog.  These shoes provide ample protection and traction for your dog so that he doesn't wear out as quickly.  They also do a great job of defending dog paws against sharp objects like rocks and broken branches. Get yours here.
ThunderShirt Polo Dog Anxiety Jacket
Dogs don't necessarily love to travel.  In fact, a lot of dogs get tremendous amounts of anxiety from travel. While vets might prescribe you pills to ease your dog's worries, the next best solution is the ThunderShirt Polo Dog Anxiety Jacket.  The ThunderShirt wraps tightly around your dog and the pressure on the body helps ease some of the stress associated with travel.  It doesn't work for all dogs, but lots of people swear by it.  Get yours here.

Petego Pet Tube Kennel
When you have a car seat cover, but your dog keeps trying to jump through to the front seat to join in, you might need extra defenses.  If you're looking for unique dog gifts for a friend with a high energy dog that can't stay still, the Petego Pet Tube Kennel is the perfect solution.  Not only will the car kennel keep your dog in the backseat, it will also protect your car from dogs' shedding and drooling.  Get yours here.
PupSaver Original Dog Car Seat
Driving in a car with a seat belt and air bags made for humans makes people safe, but what about our beloved pets?  If you think that your dog sliding around in the back seat isn't safe, then you're probably right.  Why not get the only crash-tested dog car seat on the market?  The PupSaver dog seat is a rear facing dog seat that was tested using federal standards for child safety seats.  It isn't the perfect solution to protect your dog, but it's infinitely better than having no protection at all.  Get yours here.

Treats
Nothing says holidays quite like copious amounts of food.  And if you're really trying to make your dog appreciate the gift your giving, then treats are definitely the way to go.  Besides, why should you gain 10% more body weight from November to December without your dog best friends joining in. There are so many new and interesting dog treats that work great as unique dog gifts.  Just be careful about wrapping these treats and putting them under the Christmas tree because they may get opened prematurely when your dog starts sniffing around.
Rachael Ray Nutrish Grain Free Dog Treats
We wrote extensively about high fiber cat food and we're big fans of Rachel Ray's Nutrish line of food and treats.  The line's dog food is similarly well balanced and they make healthy treats your dog is sure to love.  These grain-free "Chk'n Drumstix" treats are great for your dog and won't contribute to him or her packing on excess baggage over the holiday season.  Get yours here.
Trainer's Secrets 
Wild Salmon Dog Treats
How often do you eat wild caught Alaskan salmon?  Well, your dog can eat it every day if you get these Trainer's Secrets Premium Mini Dog Treats.  These salmon treats are made in the USA and are free from preservatives.  If you are looking for a healthy treat that your dog will obsess over, look no further.  Get yours here.
Green Butterfly 
Premium Salmon Dog Treats
For a similar product that actually looks like salmon, go with these treats from Green Butterfly Brands.  They are also additive free, made in the USA, and still have the skin on them.  If you have a cat, you can dish some of these out to him too!  Get yours here.

Green Butterfly Premium Chicken Jerkey
Green Butterfly Brands has a few other excellent natural products, and one of our favorites is their Premium Chicken Jerky.  These are great for chicken lovers that prefer something to dig their teeth into.  Owners are obsessed with these treats, so you really can't go wrong.  The best part – they donate a portion of the proceeds from each sale to training service dogs for disabled veterans! Get yours here.
Brutus & Barnaby Pig Ears
Pig ears may be exotic fare for humans, but dogs are obsessed with them.  Plus, they make for perfect unique dog gifts.  If you haven't given your dog the pleasure of noshing on a pig ear, then this Christmas is the time to do so.  
Pig ears have soft cartilage wrapped in thin skin so they are challenging to eat, but won't damage your dog's teeth.  Get yours here.
Himalayan Mountain Dog Chews
For something even more exotic, Emmy's Best Himalayan Mountain Dog Chews will transport your dog to far away mountains where he roams free in the snowy landscape.  These unique dog gifts contain only four ingredients: cow's milk, yak milk, salt, and lime juice.  Think of it as a Himalayan Dog Margarita.  They were also featured on Shark Tank.  Get yours here.
Stella & Chewy's Freeze Dried Dinner for Dog
If your dog is getting bored of the same old dry dog food for dinner, then you might want to mix it up a bit with something that is part dinner, part treat.  Stella & Chewy's Freeze Dried Dinner for Dogs is a great way to give your dog organic, nutrient-rich meat made in the USA.  These dinners are great for diabetic dogs and will help balance any dog diet.  Get yours here.
Puppy Scoops Ice Cream Mix for Dogs
Does your dog love ice cream as much as you do?  Does he love to lick the empty ice cream tub from the trash?  Nobody wants their dog eating real ice cream, especially if it has chocolate in it, but Puppy Scoops Ice Cream Mix can get them as close as possible to the real thing.  Puppy Scoops come as a powder. Just add water and place in the freezer to get the final product.  With Puppy Scoops, you'll definitely have one of the most unique dog gifts anyone is giving this season.  The ice cream has a fraction of the fat and calories in normal ice cream and is specially formulated for dogs, so let your dog go at it without feeling guilty!  Get yours here.
Christmas Dog Treats
If your dog is getting jealous of all the Christmas themed treats that you've been eating, then why not get them some of their own.  These handmade dog treats are perfect to get your dog in the holiday mood.  They are made to order on Etsy and contain peanut butter and garbanzo bean flour.  Get yours here.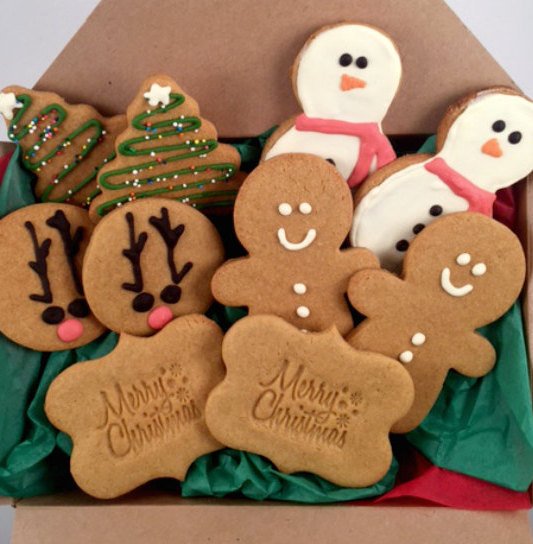 Apollo Peak Wine for Dogs
Tired of those lonely nights drinking wine with your dog by your side?  Fret no more, because non-alcoholic dog wine is about to make your dream of binge drinking with your dog a reality.  Apollo Peak makes a number of different varietals.  So grab some Chardognay, Malbark, or Zinfantail and pour a glass for your dog too! Get yours here.
Bake-a-Bone Dog Treat Maker
If you're into DIY and baking, why not get creative and bake your own dog treats from home?  The Bake-a-Bone is like a dog bone waffle iron that lets you control exactly what goes into your dog food – no more worries about dangerous imported food or falsely advertised organic products.  If you're serious about what your dog eats, this is the way to go.  Get yours here.

Home
People go to great lengths to make themselves comfortable at home.  There are an endless number of products for our bathrooms, yet there are so few unique dog gifts to give that are for the home.  What about all their creature comforts?  In this section, we'll show you our favorite unique dog products for the home. We do have some favorite dog beds, but there's a lot more, so read on!
PetFusion Ultimate Pet Bed & Lounge
You have a memory foam mattress, so why can't your dog have one?  That's exactly what PetFusion asked when it created its Ultimate Pet Bed & Lounge, a sleek looking bed that will fit any sized dog.  PetFusion also sells replacement covers so you don't have to worry about replacing the whole thing on a perennial basis. Buy yours here.
Ohhio Hand Woven Merino Wool Bed
If you want to get a fancy dog bed, but have more of a classic aesthetic, then the Ohhio hand woven merino wool
bed is the way to go.  It has a classic large weave that will provide the warmth that your dog expects.  It's soft to the touch and looks great in any living room! Get yours here.
Design Dua Woven Bed
For those who like to go a little more folksy, the Design Dua handmade woven elephant grass bed looks great in any environment.  It was the winner of the HGTV & NY NOW Best in Market Design Award in August and you can see why.  It's handmade and takes several days to weave, so you know you're getting a high quality bed.  It is also a stunning addition to any living room.  Get yours here.
CuddleDots P'Iglet Pouch
If your dog is all about being as comfy as possible, then you might want to go for the CuddleDots P'Iglet Pouch.  Its silly name aside, this bed would be something we'd even be willing to cuddle up in.  In fact, the company is apparently constantly approached about whether they have a human-sized version.  Until that happens, your dog will get all the pleasure of cuddling up and burrowing under the bed's attached blanket. It also comes in 10 different colors to suit your (or your dog's) fancy. Buy yours here.
PetFusion Elevated Pet Feeder
Throw away your old scratched plastic dog bowls and get elevated!  The PetFusion Elevated Pet Feeder brings the design quality and durability we've come to expect from all of PetFusion's products.  These bowls will last a lifetime with their durable anodized aluminum frames and stainless steel bowls.  The raised bowls will make it easier for your dog to chow down without compromising his neck, ensuring that you'll have a happy pup for years to come.  Buy yours here.
Claymark Furniture Raised Maple Dog Feeder
For those looking to go even more contemporary, this ultra-sleek Claymark Furniture
 raised maple dog feeder is the ultimate in pet luxury.  It's one of the most unique dog gifts for the home that we found.  The handmade bent plywood could only have been hand-fashioned by expert carpenters and it comes with different veneer options to match your existing furniture.  Get yours here.
PetPeek Fence Window
Don't you hate how your dog is always trying to claw at your fence to see what's on the other side?  Well the PetPeek Fence Window solves the problem for good.  Give your dog a window into the world and let him watch cars drive by as long as he wants. Plus, you can watch neighbors walk by while they wonder why there is a dog with a space helmet breaking through your fence.  Get yours here.
MDK9 Dog Haus
If you have the nicest house on the block, why shouldn't your dog have the nicest dog house on the block too?  After searching for an architecturally unique dog house for their own dog and coming up short, the designers at Rah:Design decided to do it themselves.  The MDK9 Dog Haus takes dog house design to the next level and might even put your house to shame.  The only catch? You'll have to put up some serious dough to afford the MDK9.  The dog house is currently listed for $3,650.  Get yours here (if you dare).

The Dogist Book
If you or the person your giving a gift to has it all, why not give them the best coffee table book on the market?  The Dogist: Photographic Encounters with 1,000 Dogs is a book of dog pictures based on the Instagram account The Dogist.  The Dogist is the Bill Cunningham (R.I.P.) of dogs.  He makes a living documenting the most fashionable and beautiful dog residents of NYC. The book is the perfect addition to any dog lover's home.  Get yours here.
We hope that you like our roundup of unique dog gifts.  If you know of any unique dog gifts that we missed, or have something to say about the unique dog gifts we'e listed, tell us in the comments section.  We'd love to hear from you!