Consider these different scenarios: Your dog recently got their bath, but they just rolled in the dirt. You have a Maltese or another breed susceptible to tear-staining. Your Pug's wrinkles are adorable, but you know they need special care to keep them clean and healthy. You just noticed a suspicious patch of something sticky on your dog's side, but they have sensitive skin. Plunking your dog into the bath constantly will dry out their skin. What's a loving dog owner to do? In each case, you can reach for dog wipes, and there are wipes designed for all of these needs.
To Bathe or To Swipe?
Bathing your dog keeps their coat and skin clean, while also eliminating the odor of "unpleasant dog" (you know that smell). For most dogs, monthly baths strike a balance between keeping them clean and healthy without drying out and irritating their skin. Hairless dog breeds require more frequent bathing due to their unique skincare needs.
Dog wipes DON'T replace bathing. The handy moistened cloths remove surface dirt and debris, but they don't penetrate the skin. They aren't a substitute for lathering up with shampoo.
So when can you reach for dog wipes?
You want to freshen up your dog between baths
Your dog has a small mess that doesn't require a full bath
To treat special conditions (i.e., tear-staining or wrinkles)
As a substitute for baths when traveling
Choosing a Dog Wipe
Dog wipes cover a variety of options. Depending on why you're planning to have them on-hand, you want to keep several things in mind.
Ingredients: As with any product you use on your dog's skin, make sure the dog wipes don't contain anything that might irritate your dog. If your dog has allergies, look for hypoallergenic wipes.
Intended Use: There are various types of dog wipes (and we'll look at all of them). Make sure you're getting the wipe designed for the use you need. If your dog doesn't need a medicated wipe, skip it – the antibacterial properties may dry out your dog's skin.
Portability: If you want the dog wipes for travel purposes, make sure the packaging is travel-friendly.
Pricing: How much are you willing to spend on these dog wipes? Consider how many come in each package, and how long the package will last. Remember, wipes aren't a substitute for bathing, but if you have a large dog and want the dog wipes for touch-ups, you might need more just to cover your entire dog.
Best Dog Wipes
Dog wipes have specialized uses. You may want to keep multiple types on-hand, depending on your dog's specific needs. (Just don't get them confused) All dog wipes are moistened towelettes, which need to stay sealed to prevent drying. Once the wipe dries out, it loses all efficacy (this is important – I promise).
While it may be tempting, it's important to remember that dog wipes CANNOT get flushed down the toilet. They aren't designed for septic systems or city sewers. So you WILL need to throw them in the trash.
Best Grooming Dog Wipes
Grooming dog wipes are the most common type available. The active ingredients include cleansers, moisturizers, and a scent. These wipes function for everyday use, cleaning up small messes, and refreshing your dog's coat between baths. They also work great for travel.
Pogi's wipes are made from sustainable bamboo and contain aloe vera, Hawaiian awapuhi, and vitamin E. They clean and moisturize your dog's coat in one smooth step. The large, quilted wipes are large enough to handle a Labrador Retriever. There's no alcohol, parabens, or fragrance, ensuring no irritation or extra drying of your dog's coat. Each pack contains 100 wipes – plenty to last.
Downsides? People felt these dog wipes were drier than others. Also, while large enough for some dogs, they aren't large enough for giant breeds.
PupMate uses aloe vera and vitamin E as the active ingredients in their wipes, avoiding alcohol, which might dry out your dog's coat. Each wipe is triple-quilted for durability, coming in around 6.3 by 7.9 inches in size. You have the option of their natural or aloe vera scents, as well as 100 or 200 wipe packs. PupMate provides a 30-day money-back guarantee – they're that confident in their product!
The downsides? Not everyone liked the scents (either one). Also, the packaging is difficult to open, making dispensing the wipes a problem.
Best Hypoallergenic Grooming Dog Wipes
Does your dog have allergies or sensitive skin? You know frequent baths can prompt a flare of their condition. Dog wipes provide the perfect solution when they've rolled in the dirt (or the very grass they're allergic to). Hypoallergenic grooming wipes cater to dogs with sensitivities. You keep your dog's coat shiny without prompting a need for additional allergy meds. (Or, worse, an extra bath with their expensive allergy treatment)
EarthBath uses green tea leaf extract, Hawaiian awapuhi, and aloe vera for the base of their dog wipes. Each biodegradable wipe is roughly the size of your hand, making them suitable for even large breeds. You have the option of choosing fragrance-free (best for dogs – or humans – with allergies), mango, or green tea leaf scents, though owners didn't object to any of the scents. Each pack comes with 100 wipes, lasting you through numerous messes. EarthBath is so confident in their wipes, they provide a 100% satisfaction guarantee (always a bonus).
Downsides? They're on the expensive side. Also, the package's lid tends to break easily, allowing the wipes to dry out (just be careful).
Burt's Bees uses shea butter and honey to keep your dog's coat moisturized and shiny. Each wipe measures around 6.8 by 7 inches (medium-sized), with NO artificial fragrance. You just get the natural scent of the ingredients – nothing to trigger allergies in you or your dog. Each pack contains 50 wipes, though you can find deals to purchase two packages at once. Best of all, Burt's Bees is safe to use with topical flea and tick treatments (gotta love that!). You also get a 100% satisfaction guarantee, just in case. There are the wipes we use when our dog rolls around in the grass too much (which she's allergic to, of course).
The downsides? Again, these wipes are a little expensive. Also, if you want to cover up the smell of unwashed dog, these aren't the wipes for you – they won't do the trick.
Best Specialized Dog Wipes: Eyes
Different breeds of dogs – Maltese, Shih-Tzu, and Cocker Spaniel, just to name a few – are prone to tear-staining. This results from variations in the eyelids, causing tears to drain onto the face rather than down the throat. Grooming dog wipes are NOT safe for use around the eyes. Luckily, there are specialized dog wipes explicitly designed for keeping up with unsightly marks on the face.
Avara relies heavily on natural ingredients to clean and protect your dog's eyes: aloe vera, eyebright (controls inflammation), lion's tooth (protects the eye from pollutants in the air), and 26 Dead Sea minerals. They avoid bleach and any other harsh chemicals (NOT things you want near your dog's eyes!). Each wipe soothes, controls natural discharge, eliminates dirt and debris, and reduces tear-staining conditions.
Downsides? Compared to other eye wipes, Avara's formula isn't as potent. Also, if you don't keep the package sealed, the wipes dry out FAST.
PetPost relies on plant-based, hypoallergenic formulas to protect your dog's eyes. Juniper berry and coconut soak these cotton wipes, packaged in a recyclable bottle. You even get a 100% money-back guarantee, reassuring you PetPost will work. Just be patient, as it may take days to weeks for stubborn stains to change back to your dog's original color. After all, PetPost avoids dangerous chemicals and bleach.
The downsides? People felt there was a soapy quality to the wipes, requiring a rinse after using the wipes (no soap near the eyes). Also, juniper berries have a strong scent, so dogs with sensitivities might not react favorably towards these wipes.
Best Specialized Dog Wipes: Ears
There's no substitute for cleaning your dog's ears. Quality dog ear cleaners reach down into the ear canal and protect against excessive ear wax, yeast, and bacteria. However, just as with baths, you can't overdo it with ear cleaners. If your dog needs a quick touch-up, dog wipes for the ears can help bridge the gap. Just be mindful: if you notice irritation or redness, get to the vet right away.
Pet MD's veterinary formula contains eucalyptus and aloe oil, which leaves a pleasant scent behind. Plus, aloe oil soothes your dog's ears. The wipes remove dirt and debris, preventing infection and yeast build-up. The gentle formula allows you to use them every day without fear of excessive drying of your dog's ears (not that this is recommended, though).
Downsides? Your dog must be 12-weeks-old to use these wipes safely. Also, as you get to the bottom of the container, the wipes sit in the liquid, so you have to squeeze them out first, so you don't dump extra fluid into your dog's ears.
VetWELL uses aloe vera leaf extract, and they combine it with eucalyptus to provide antiseptic and a fresh scent for their wipes. Their formula is alcohol-free, eliminating irritation to your dog's ears. Their wipes eliminate ear wax build-up while removing dirt and debris, which could harbor infection sources. The gentle, calming sensation is pleasant for your dog.
The downsides? People felt the pads were small, especially for larger dogs. Also, the formula irritated some dogs, so it's not hypoallergenic. And the same problem with the wipes at the bottom of the container – squeeze out the excess liquid first.
Best Specialized Dog Wipes: Bums
Many people have their vet offices handle anal gland expression. Why? Well, it's gross. You know it's time to call for an appointment as soon as you see your dog scooting along the carpet. Veterinary technicians and vets receive training to perform the task. However, some owners ask for training to handle the chore at home. Also, dogs express their anal glands at different times. If you want to handle clean-up (and cover the smell), dog wipes provide the answer.
Glandex employs a particular enzyme – dubbed "Deoplex" – which naturally breaks down the odor of anal gland expressions. Their wipes also feature aloe vera and vitamin E, keeping your dog's hind end moisturized and comfortable. They avoid alcohol and other harsh chemicals that might dry that sensitive area or cause irritation.
Downsides? Your dog can't lick the treated area until it dries, if you want the best results. Also, if your dog has allergies, they may end up with a reaction, so observe carefully.
Best Specialized Dog Wipes: Wrinkles
Is there anything cuter than a wrinkly-faced dog? Brachycephalic breeds make us smile with those bunched-up wrinkles, inviting us to squish their faces between our fingers. All of those folds have the potential to trap dirt and debris, though, resulting in skin-fold pyoderma (infection of the skin). Owners of these adorable breeds know the importance of proper wrinkle hygiene, cleaning every nook and cranny with special dog wipes regularly.
Yes, PetPost makes the list again. Their cotton wipes come infused with aloe vera and coconut oil, meant for the best wrinkle dogs. The wipes clean and soothe, removing unwanted dirt while leaving behind a beautiful shine. You get a light coconut scent that doesn't bother your dog. PetPost recommends using these wipes every five to seven days, allowing your dog's skin to dry entirely afterward. The formula's gentle enough to care for everyone, from puppies to seniors.
Downsides? While the wipes work for every age, they're only available in one size (up to you whether you feel that's a downside or not). Also, people felt the wipes were thinner than anticipated, tearing easily.
Best Medicated Dog Wipes
Sometimes your dog's skin needs a little extra treatment. ALWAYS check with your veterinarian before applying something to your dog's skin. What you may think is a simple rash could be severe. If they give you the green light, dog wipes provide an easy way to apply medicated treatment to small (or even larger) regions of your dog's body. Just make sure you don't see any worsening of the condition. The last thing you want to do is make your dog worse.
Pet MD makes a second appearance on this list with their medicated dog wipes. The veterinary formula targets yeast and bacteria on the skin, while aloe provides moisture and soothes any irritation present. Chlorhexidine is a common ingredient in veterinary cleansers, while ketoconazole is an antifungal. As this IS a medicated wipe, make sure you wash your hands thoroughly after use, and discourage your dog from licking the treated area.
Downside? The wipes are expensive. Considering it's medicinal, that isn't too surprising.
Dechra's formula contains antimicrobial agents, minus any alcohol. Acetic and boric acids attack allergens and pathogens on your dog's skin to reduce itching without triggering allergies. The wipes target mild fungal, bacterial, and skin conditions such as hot spots, stud tail, and chin acne. That's right – you can use these wipes (CAREFULLY!) around the face. Available in either 25 or 100 pack sizes, each wipe has a light, fruity scent. Again, though, as this is a medicated wipe, wash your hands after using them.
The downside? If you don't reseal the package, the wipes dry out quickly.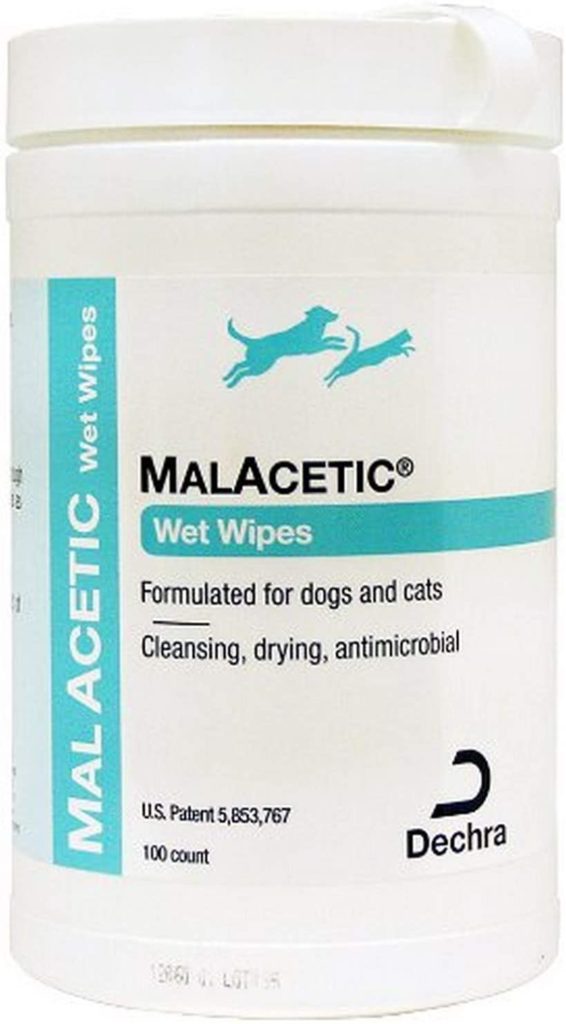 Clean Between Cleans
Dragging your dog into the bath every other day defines excessive. You can't just leave that smear of paint on their leg, though. Or, if they have allergies, you can't watch them break out in a rash because they just HAD to roll in the freshly cut grass.
Dog wipes provide a simple solution. Your dog gets clean without the hassle – or unhealthy consequences – of getting dropped in the bathtub. For dogs with special needs, such as tear-staining or wrinkles, dog wipes help owners prevent unwanted health hazards from cropping up.
Whether you tuck a grooming wipe in your dog's travel bag, or keep a variety of dog wipes in the cupboard (just in case), having options for cleaning your dog between baths provides you with much-needed peace of mind.